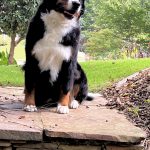 Presents
Anastasia Tropic Like It's Hot (Capri)
Owned and loved by Natalie Ellis and Lynn Balsiger
     Great news – Capri has passed all clearances!
Good hips, normal elbows
Heart (echo) and eyes – Normal
DM SOD1A & SOD1B – Clear/Clear
vWD – clear
Histio tested and in HSIMS database
Capri came to live with us in Georgia in January 2023.  She has been delight and fit right in with our crew.  We've started her in drafting and nosework and she's wicked smart.  Capri has already produced one champion.  Hopefully, we'll get Capri in the ring in 2024.
Here are a few pictures of Capri.  She's delightful!